Mitsubishi Estate's Concept of the Office BuildingEco-friendly Features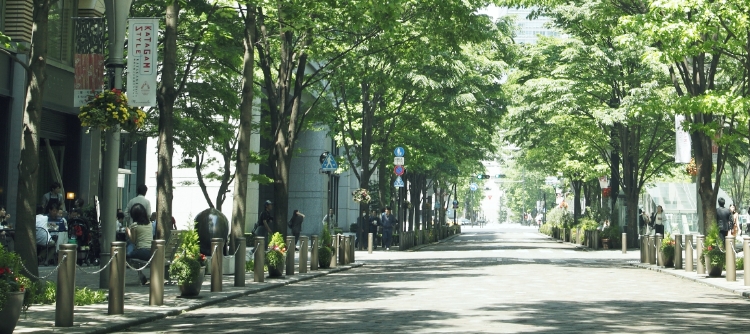 People-friendly and eco-friendly
space and services
While providing a workplace where office workers can achieve their full intellectual, creative and productive potential, we also put a high priority on making our buildings friendly to the environment.
Comfortable interior environment
Technologies for improving indoor thermal efficiency, saving energy and reducing our carbon footprint
For energy savings through elimination of window perimeter air-conditioning…

Airflow window system

Room air is circulated through the air layer in double-glazed windows to reduce the thermal load from the exterior. This eliminates the need for a dedicated air conditioning system in the window-side perimeter zone, contributing to reduced power consumption.

Marunouchi Eiraku Building

For reflection of solar energy…

Cool roof

Coated with thermal-reflective materials, rooftop surfaces suppress increases in interior temperature from sunlight exposure.

Marunouchi Park Building

For screening from direct sunlight…

Canopy tops

Eaves and vertical vanes prevent direct sunlight from entering the interior and a consequent rise in room temperature.

Marunouchi Park Building

For a balance between comfort and energy saving…

Next-generation personalized office air conditioning (desk temperature control)

In the summer and warmer seasons, each desk is cooled by the circulation of chilled water circulated in desk partition or supplemented by a fan. (In the winter, circulation of heated water in part of the desk provides warmth.) The individual regulation of the temperature at each desk enable each office worker to personalize the comfort of their workspace environment while contributing to high energy saving.

Otemon Tower
"Heat Island" mitigation measures
Green technologies for cooling the city and people
For safe, splash-free footing in the rain, and cooler pavement in sunny weather…

Special asphalt paving

Sidewalks are paved with water-retentive paving that do not form puddles on rainy days, and allows the retained water to evaporate in hot weather to keep the pavement temperature down.

For comfort outdoors…

Dry mist

Delivered by pressurized jets, the nano-sized mist instantly evaporates, reducing the ambient temperature. The cooling mist evaporates so quickly, it feels dry to the skin.

Shin-Marunouchi Building

For an eye-pleasant and eco-friendly town…

Rooftop and exterior greening

The greening of exterior walls and rooftops not only improves building heat insulation and absorbtion of atmospheric pollutants, it also is a measure that is pleasant to the eye and friendly to the environment.

Marunouchi Kitaguchi Building (rooftop garden)
"Uchimizu (Water Sprinkling) Project"
in Otemachi, Marunouchi and Yurakucho"
Every summer, shops and restaurants in the Otemachi, Marunouchi and Yurakucho areas participate in the traditional custom of "uchimizu" and sprinkle water on the sidewalks and plazas to help mitigate the heat island phenomenon. Many office workers also join this project that not only raises their environmental consciousness but also promotes community interaction.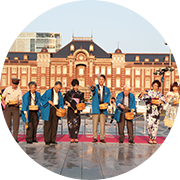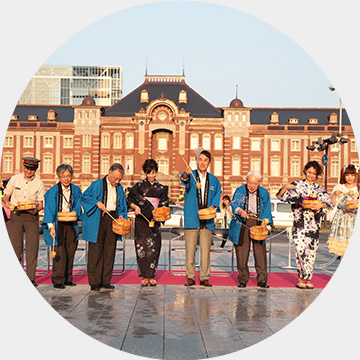 Renewable energy
Technologies that use natural eco-friendly energy sources
For power from the wind…

Compact wind power generator

Designed to fully tap the power of the strong winds that blow above the rooftop, this compact wind power generator is the produced of advanced technology.

MM Park Building

For power from the sun…

Photovoltaic power generator

Where possible, our buildings naturally exploit renewable solar energy. For instance, this building boasts a photovoltaic power generation system of the largest class among the high-rise buildings in Tokyo.

Marunouchi Eiraku Building
"Kayabacho Green Building"
– Model Environmental Building
Kayabacho Green Building is the shape of the next-generation office building as envisaged by the Mitsubishi Estate Group. This is first Japanese tenant office building featuring multiple advanced technologies that are expected to totally innovate the office environment. Tenant feedback about the building and its operation will be used to not only improve current facilities and building management, but also refine our design of future office buildings.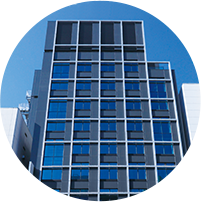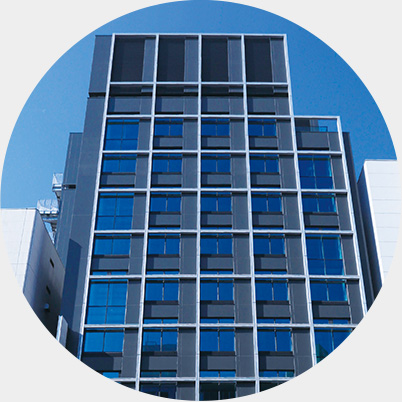 32% reduction of annual power consumption compared with a typical office environment!
*1:

Comparison with the typical office illumination (fluorescent lamp FHP45W x 2,750 lux, daylight utilization without people sensors in Shin-Marunouchi Building.)

*2:

Statistics provided by the Energy Conservation Center of Japan (building in the same class as Shin-Marunouchi Building with regional air conditioning source and 60% or higher rentable ratio).

*3:

Power consumption through power outlets are excluded from the comparison target but adjusted by sliding the values actually consumed by the demonstration office.
Kayabacho Green Building – Systems for Eco-friendly Comfort
Hybrid radiant air conditioning system

Unlike conventional air conditioning that directly blow cool and warm air, the radiant air conditioning system takes advantage of the efficient heat transfer between higher temperature to the lower temperature areas to warm space by regulating the temperature of radiation panels in the ceiling by means of cool/warm water and air. For cooling space, low-temperature thermal energy from lower temperature exterior air at nighttime is stored by the frame thermal storage system integrated in the building structure, and then is used in the daytime, reducing the peak load of air conditioning power consumption. This system is not only contributes to energy saving and room temperature uniformity, but also prevention of "air-conditioning sickness".

LED intelligent lighting system

With the capability to set the ideal intensity (brightness) and color temperature (light color) for the comfort of each office worker, this smart system uses "people sensors" to optimize lighting control and adjustment, and provide an ideal workplace lighting environment

Floor-independent type dual floor natural ventilation system

Open-ceiling spaces are provided on each floor for ventilation of a couple of floors though them for efficient natural ventilation.

High-performance exterior for thermal load reduction

Glass with excellent exterior insulation performance is adopted for windows. In addition features like eco-grids (sunlight-screening louvers) control direct sunlight entry into office interior space, contributing to improved environmental performance.
Looking ahead to what we want to accomplish as environmentally responsible company by the year 2050, we established the Mitsubishi Estate Group Long-Term Environmental Vision together with our environmental slogan "For Sustainable Cities, For Sustainable Earth" . We are determined to fulfill the fundamental mission of our group: "creating a truly meaningful society by building attractive, environmentally sound communities where people can live, work and relax with contentment" .