BCP & Environmental Symbiosis
Structure strong enough to withstand major earthquakes
and resilient building infrastructure to ensure water supply,ventilation and even emergency power generation in the event of a city power outage.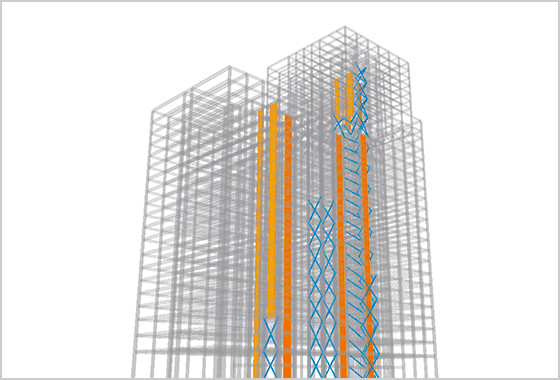 Seismic performance
Vibration-control braces in the core framework to dampen the seismic energy and the adoption of CFT (concrete-_lled steel tube) pillars for increased sti_ness and compressive strength combine to give the building a remarkably high degree of seismic performance (1.5 times the level of typical super high-rise buildings). _e building is also highly resistant to the e_ects of long-period earthquake ground motion.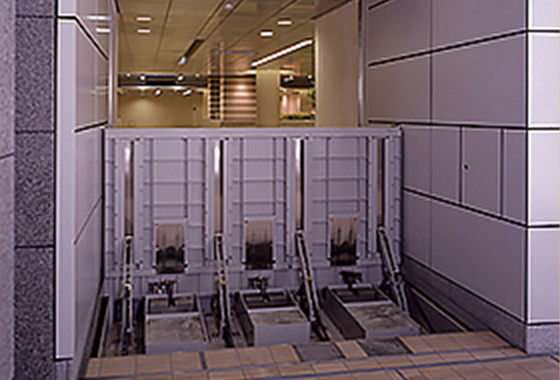 Flooding countermeasures
All entrances to the building are protected by 1m-high flood barriers to prevent flood waters from entering the building. In addition, watertight doors and flooding barriers are installed in passageways connecting to neighboring buildings and vital machine rooms located in underground levels.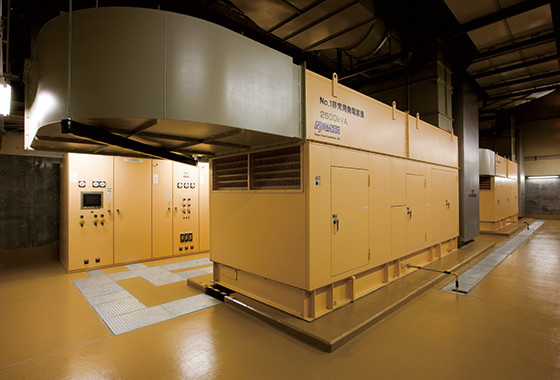 Emergency power generation
In a disaster, emergency gas turbine generators (2,000kVA x 2) are ready to supply electrical power in the event of an outage. In addition, a dual-fuel gas turbine generator (3,000kVA x 1) can be fueled by city gas supplied through highly quake-resistant intermediate pressure gas pipelines. These steps ensure the supply of sufficient power for partial operation of common area lighting and the elevators as well as lighting and power outlet supply (approx. 15VA/m²) in tenant office remises.
All these features serve as powerful support for the tenants' BCP (Business Continuity Planning).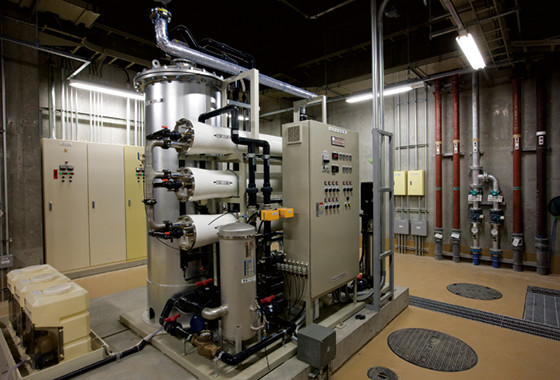 Emergency water supply
Even if the city water supply is suspended by an earthquake, drinking water can be supplied from rooftop and underground storage tanks. Also water from an emergency water well can be purified by a high-performance filtration system to provide safe general service water in an emergency.
Your complete safety is ensured by integrated area management of disaster countermeasures and disaster response.

Disaster countermeasures
Reliable supply of thermal energy from the district heating/cooling system, the robust information network environment that can provide uninterrupted service when disaster strikes, and various disaster measures developed in collaboration with the Tokyo Metropolitan Government and Chiyoda ward (support for stranded commuters/visitors, emergency first aid and medical care, emergency supplies and equipment, disaster information provision) are all elements of this district's comprehensive approach to safety. Also the adoption of common ducts for utility pipes and cables in the area is another disaster countermeasure that has further strengthened the resilience of our urban lifelines that carry electrical power, city gas and telecommunications.
The Environmental Symbiosis Building is eco-friendly, neighborhood-friendly and, of course, office worker-friendly.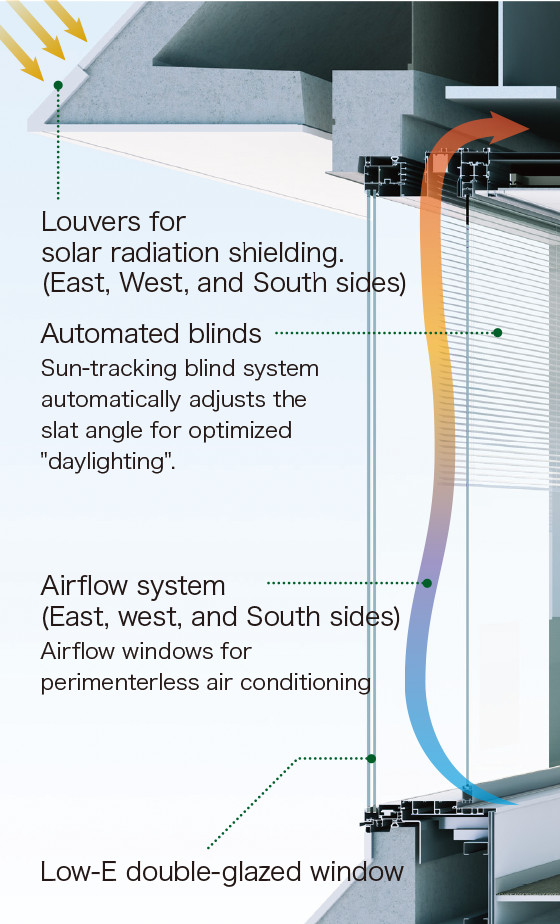 Environmental technology
Adoption of air-flow windows to reduce window-side thermal load, ultra-high efficiency LED lighting, automatic sun tracking blind systems and other cutting-edge environmental technology has earned this building the highest CASBEE (Comprehensive Assessment System for Built Environment Efficiency) ranking of "S" (Superior). Also under the DBJ Green Building certification program, the building's high environmental performance has been certified as "Platinum", the highest possible rating.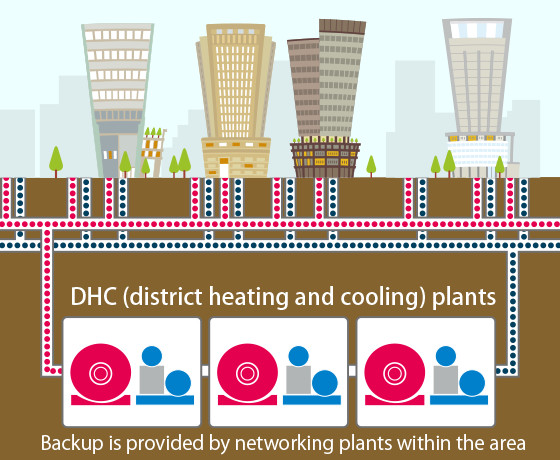 District heating and cooling
The building features its own district heating and cooling subplant. Through the integration of high-efficiency equipment and thermal storage tanks, this state-of-the-art facility not only contributes to district-wide energy savings, but also can serve as a backup for other plants in the Otemachi district via the DHC pipeline network.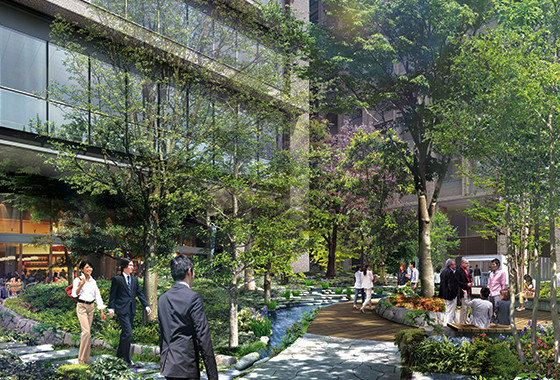 Community plaza space
Richly greenscaped with trees and other plants, the community plaza on the western side of the site provides a sense of the seasons in the heart of the city. For both the people who work here and those who visit, this comfortable open space is a relaxing place where both body and soul can find a welcome break. In times of disaster, this same space serves as a place to receive persons that are unable to return home and are stranded in the area. Equipped with emergency manhole toilets, this plaza will also be the site of a first aid center in an emergency.
*

Image for illustrative purposes