End of November 2025,
A new landmark office building to emerge
at the hub of Otemachi and Kanda.
A symbolic tower of the Kanda area, located at the gateway to Otemachi.
The atrium entrance area, made of natural wood, provides a sophisticated, yet warm atmosphere.
A plaza that acts as a hub for the Otemachi and Kanda areas.
A pedestrian bridge will be constructed over the Nihonbashi River.
Also a 1,000㎡ plaza and an anchorage will be maintained,
enhancing the pedestrian dynamics from Otemachi Naka-dori Avenue,
improving accessibility and promoting active interactions.
Building Plan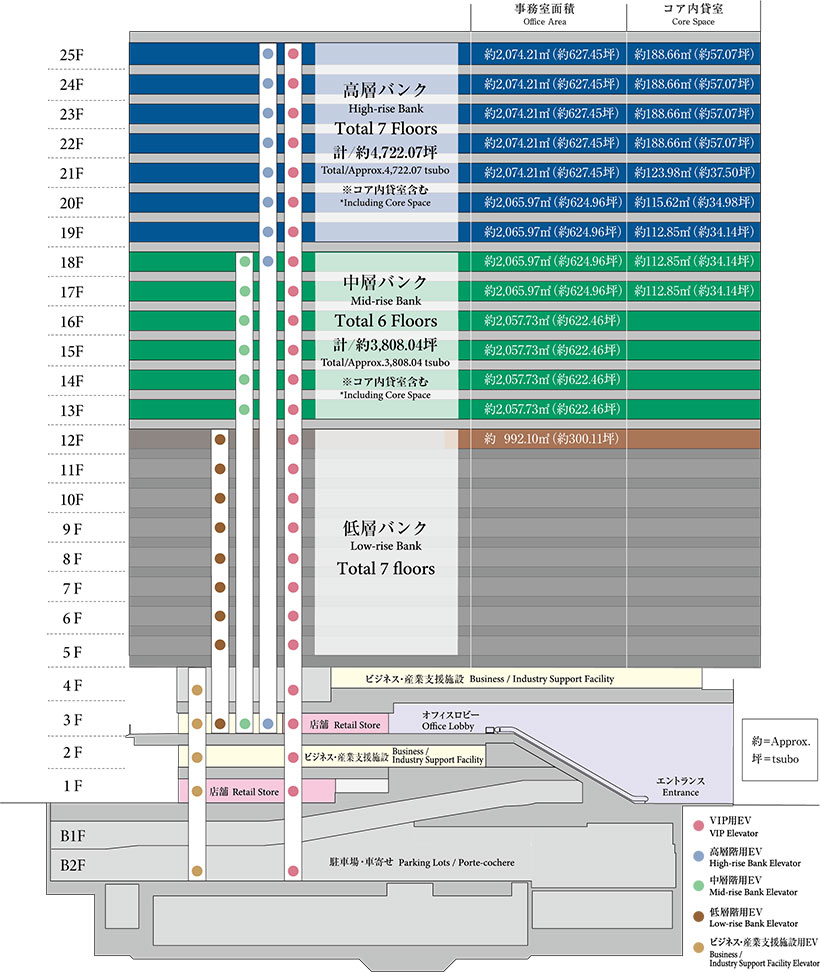 Floor Plan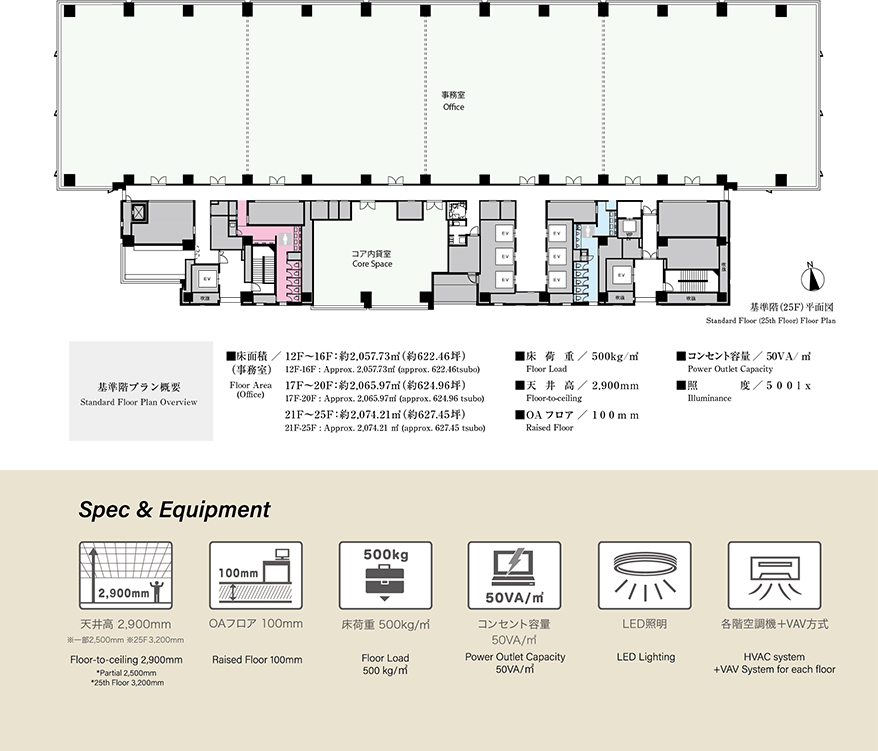 Enables a variety of layouts, providing flexibility to the way you work.
Sample Layout
Plan A:2-floor office which enables activity-based working.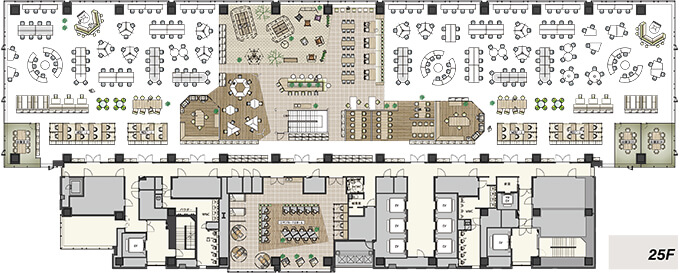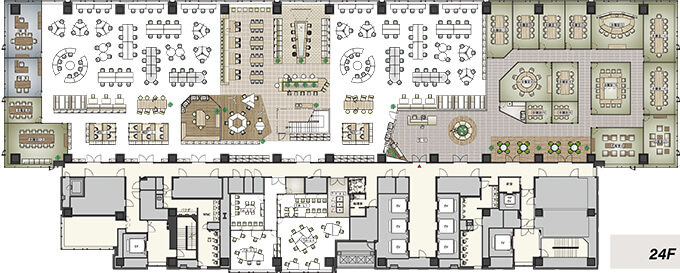 Total number of seats 375 seats
Meeting space 71 desks
Meeting rooms 19 rooms
Phone booths 31 rooms
Project rooms 4 rooms
Plan B:Island style offices that emphasize space efficiency.

Total number of seats 242 seats
Meeting space 33 desks
Meeting rooms 12 rooms
Project rooms 5 rooms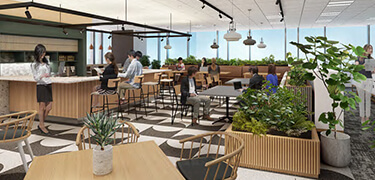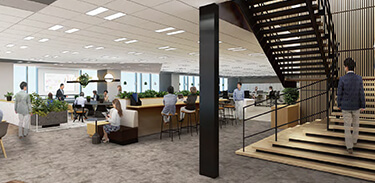 The advanced seismic damper ensures a high standard of safety in the case of an emergency.
Even in the event of a disaster, two 1,750kVA emergency generators will provide power, ventilation, and sanitation for 72 hours at 100% quality as compared to ordinary times. By employing a hybrid damping structure that utilizes a combination of an unbonded brace and an oil damper, the vibrations of earthquakes of various magnitudes are reduced, ensuring a high standard of safety.
*1 Air conditioning excluded
*2 Assumption of 30% of occupants in the building at time of disaster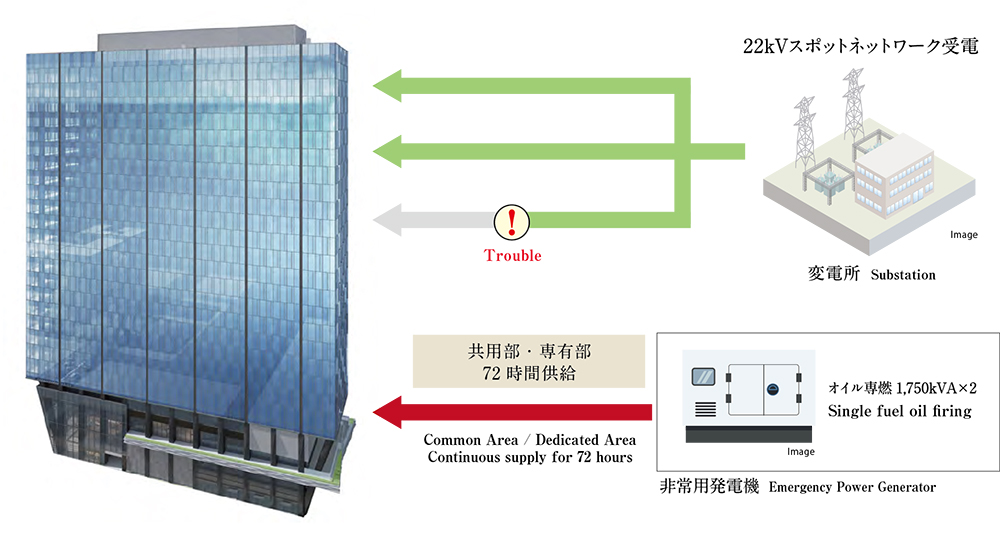 Outline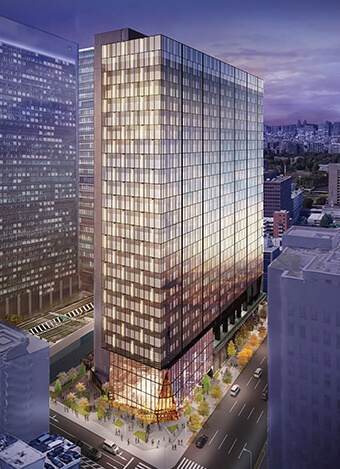 The exterior completion CG image of the building shown is composed of a site photograph taken in March 2022 and blueprints from the planning stage, thus may differ from the actual completion. Some facility equipment is not represented. The plantings are not representative of a specific season or the condition of the time of move in.
The cross section shown is based on the blueprints from the planning stage, thus may differ from the actual completion. In addition, changes may occur to the area due to law revisions and design modifications.
Project Name

(tentative name) Uchi-Kanda 1-chome Project
Address

1-31,11 Uchi-Kanda, Chiyoda-ku, Tokyo
Access

3-minute walk from Otemachi Station on Tokyo Metro/Toei Subway Lines
6-minute walk from Kanda Station on JR/Tokyo Metro Ginza Line
Primary use

Office, Retail Store, Business / Industry Support Facility, Parking, etc.
Floors

3 floors underground / 26 floor above ground / 2 floors roof structure
Structure

Underground: Steel Reinforced Concrete

(partially, Steel Frame)

Above ground: Steel Frame
Building Height

Approx. 130m
Architectural Design and Supervision

Mitsubishi Jisho Sekkei Inc.
Construction

Taisei Corporation
Site Area

Approx. 5,100㎡ (Approx. 1,543 tsubo)
Building Area

Approx. 3,307㎡ (Approx. 1,000 tsubo)
Gross Floor Area

Approx. 85,267㎡ (Approx. 25,793 tsubo)
Total Office Area

Approx. 29,190.74㎡ (Approx. 8,830.22 tsubo)
Lighting

LED Lighting Daylight Use Management System installation
HVAC system

Zoning + VAV System in 4 sections on each floor
Elevator

For Office Access: 16 cars

(1 bank with 4 cars, 2 banks with 6 cars)

Elevators for VIP Use: 1 car
Elevators for Business/Industry Support Facility: 2 cars
Elevators for emergency and cargo/passenger transport use : 2 cars
Parking Lots

Approx. 150 spaces
Standard Floor Area

12F-16F : Approx. 2,057.73 ㎡
(approx. 622.46 tsubo)
17F-20F : Approx. 2,065.97 ㎡
(approx. 624.96 tsubo)
21F-25F : Approx. 2,074.21 ㎡
(approx. 627.45 tsubo)
Floor load

500kg/㎡
Floor-to-Ceiling

2,900mm
Raised floor

100mm
Power Outlet capacity

50VA/㎡
Illuminance

500Lx
Scheduled Completion

End of November 2025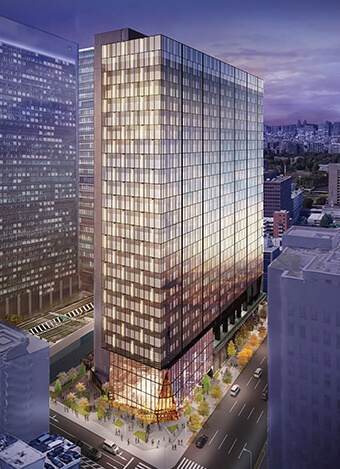 Vacancy Status
In addition to the listing in this website, we may be able to introduce you to other properties that may be ideal for your needs. Please feel free to contact us for further information or assistance
---