TOWER-A
People working. Passion rising.

Work styles are continuously evolving
to bring individuals greater freedom
and flexibility in how they get things done.
Set free from the constraints of time and space,
they can more easily realize their aspirations.
Unexpected encounters, discoveries and ideas await.
Work hours, which occupy such a large part of our time,
evolve to make life more efficient, enriched and enjoyable.
First-of-its-kind workspace for achieving best-ever performance.
TOKYO TOKIWABASHI TOWER-A
Work involves movement and interaction.
In an era when people can work
without being bound by time and space,
we provide enriched services and functional space
where people can feel the value of connecting with people.
Plaza & Park
Where minds meet, innovation flourishes.
An open green square nurtures infinite possibilities.
In 2027, a large open square encompassing 7,000 square meters between Towers A and B is scheduled for completion.
First a unique 3,000 ㎡ open space based on an "infinity" theme will open when Tower A is completed in 2021.
People will gather to work, play and relax in this area punctuated by green lawns,outdoor stairs conducive to quick breaks, and benches with amusing slants.
Everyone can use the space as they like.
3rd floor
Spaces and exclusive services that support new work styles help maximize people's potential and performance.
The third floor of Tower A will be a shared space where cafeterias, meeting rooms and event spaces support new work styles centered on eating and communicating.
Workers will gather around tables and work as they like while exchanging opinions, sharing meals and periodically participating in events to hone their skills. We will also provide comprehensive services, including systems t hat use ICT, user-dedicated websites and mobile applications.In this way, we will support the free and flexible thinking and desired activities of every individual.
Building Outline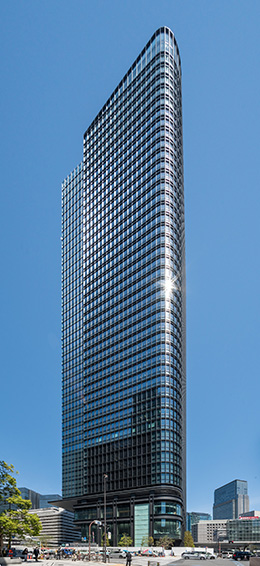 Address
1- Chome Otemachi, Chiyoda-ku, Tokyo 1- Chome Yaesu, Chuo-ku,Tokyo
Business Operator
Mit subishi E st ate Co., L td.E xecutor o f Class 1 Urban Area Redevelopment Project in Otemachi 2 - Chome
Tokiwabashi District
Design/Super vision
Mitsubishi Jisho Sekkei Inc .
Construction
Toda Corporation
Completion
The end of June 2021 (tent ative)
Main Use
Offices, stores and parking areas
Number of Floors
5 floors below ground / 38 floors above ground*1
Structure
Above ground: Steel construction (CFT for certain columns)
Below ground: Steel frame reinforced concrete (partially reinforced concrete)
Height
Approx. 212m
Land Use Zone
Commercial district / fire prevention district
Site Area
Approx. 338,000 sq.ft.(Approx. 9,500 tsubo)
Gross Floor Area
Approx. 1,571,500 sq.ft .(Approx. 44,200 tsubo)
Leasable Office Floor Area
Approx. 833,100 sq.ft .(Approx. 23,400 tsubo)
Allowable Loading Capacity of Floor
Office rooms on typical floor: 500kg /㎡ ( Heavy duty zone: 800 kg /㎡)
Raised Floor Height
130mm
Ceiling Height
Standard floors: 2,850 mm; special floors (8th Floor/22nd Floor/30th Floor): 3,000 mm
HVAC
Compact AHU (Air Handling Unit) system + VAV (Variable Air Volume) system on each floor(except a part)
*1: 40 floors above ground in accordance with Building Standards Act of Japan
More info
coming soon
For more information about this buildings and to find out its availability,
please feel free to contact us via our inquiry form.
* Some of the images are for illustration purposes only.