Tokiwabashi Tower
People working. Passion rising.

Work styles are continuously evolving
to bring individuals greater freedom
and flexibility in how they get things done.
Set free from the constraints of time and space,
they can more easily realize their aspirations.
Unexpected encounters, discoveries and ideas await.
Work hours, which occupy such a large part of our time,
evolve to make life more efficient, enriched and enjoyable.
First-of-its-kind workspace for achieving best-ever performance.
Tokiwabashi Tower
Work involves movement and interaction.
In an era when people can work
without being bound by time and space,
we provide enriched services and functional space
where people can feel the value of connecting with people.
Building Outline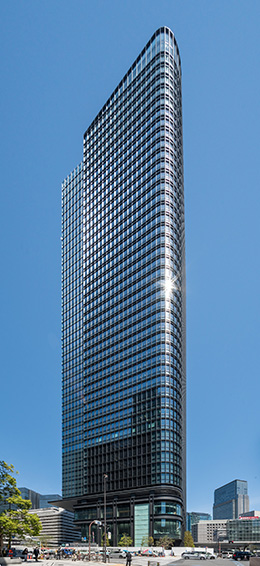 Address
2-6-4 Otemachi, Chiyoda-ku, Tokyo
Business Operator
Mit subishi E st ate Co., L td.E xecutor o f Class 1 Urban Area Redevelopment Project in Otemachi 2 - Chome
Tokiwabashi District
Design/Super vision
Mitsubishi Jisho Sekkei Inc .
Construction
Toda Corporation
Completion
The end of June 2021
Main Use
Offices, stores and parking areas
Number of Floors
5 floors below ground / 38 floors above ground
*40 floors above ground in accordance with Building Standards Act of Japan
Structure
Above ground: Steel construction (CFT for certain columns)
Below ground: Steel frame reinforced concrete (partially reinforced concrete)
Height
Approx. 212m
Land Use Zone
Commercial district / fire prevention district
Site Area
Approx. 31,372㎡ (Approx. 9,500 tsubo)
Gross Floor Area
Approx. 146,400㎡ (Approx. 44,300 tsubo)
Leasable Office Floor Area
Approx. 75,300㎡ (Approx. 22,800 tsubo)
Allowable Loading Capacity of Floor
Office rooms on typical floor: 500kg /㎡ ( Heavy duty zone: 800 kg /㎡)
Raised Floor Height
130mm
Ceiling Height
Standard floors: 2,850mm; special floors (8th Floor/22nd Floor/30th Floor): 3,000mm
HVAC
Compact AHU (Air Handling Unit) system + VAV (Variable Air Volume) system on each floor(except a part)
Parking
When Tokiwabashi Tower is completed : 176 for cars (Drive-in parking : 64, Mechanical car parking : 112) / 111 for bicycles / 20 for motorcycles
please feel free to contact us via our inquiry form.
* Some of the images are for illustration purposes only.