TOKYO TORCH
TOKYO TOKIWABASHI PROJECT
Make Japan a place that excites the world.
The brand new district emerging in Tokiwabashi, Tokyo —TOKYO TORCH—
taking its name from a torch that lights up the world.
That is,
the light that symbolizes Japan to the whole world,
the light that brightens one's life for the future century,
the light that gathers those who come together to build Japan's future.
Let's imagine the rising energy that attracts, connects, and excites people from all around the world.

TOKYO TOKIWABASHI PROJECT
Prominent landmark of
Tokyo evolution
In FY2027,
a new Tokyo landmark reaching 390 meters into the sky and
7,000 ㎡ open space will emerge
from the largest city block (3.1 ha) facing Tokyo Station.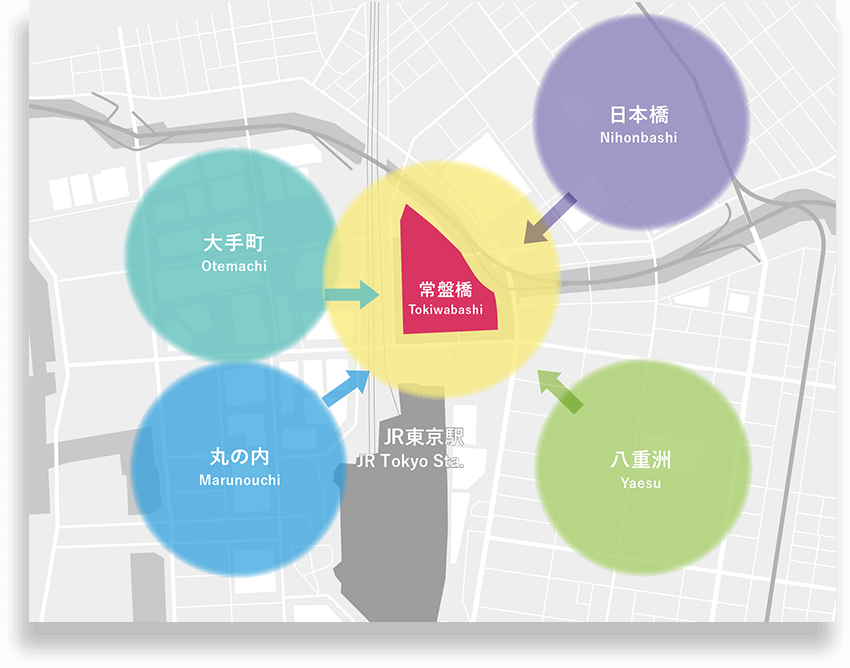 In the heart of Tokyo where Otemachi, Marunouchi, Yaesu and Nihonbashi meet,
the historic district of Tokiwabashi that once flourished
as a gateway to Edo Castle will be dramatically reborn.
Premium Access
Premium access connecting Japan from the heart of Tokyo.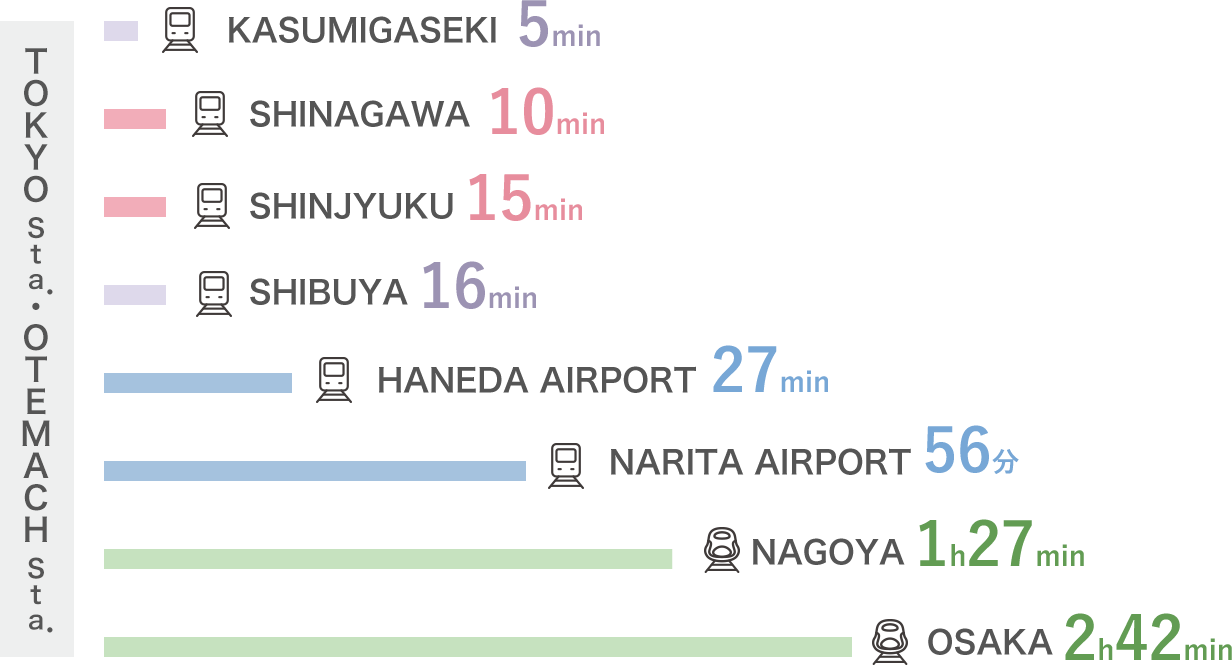 ※Displayed riding times do not include transfer times,
which may vary depending on various conditions.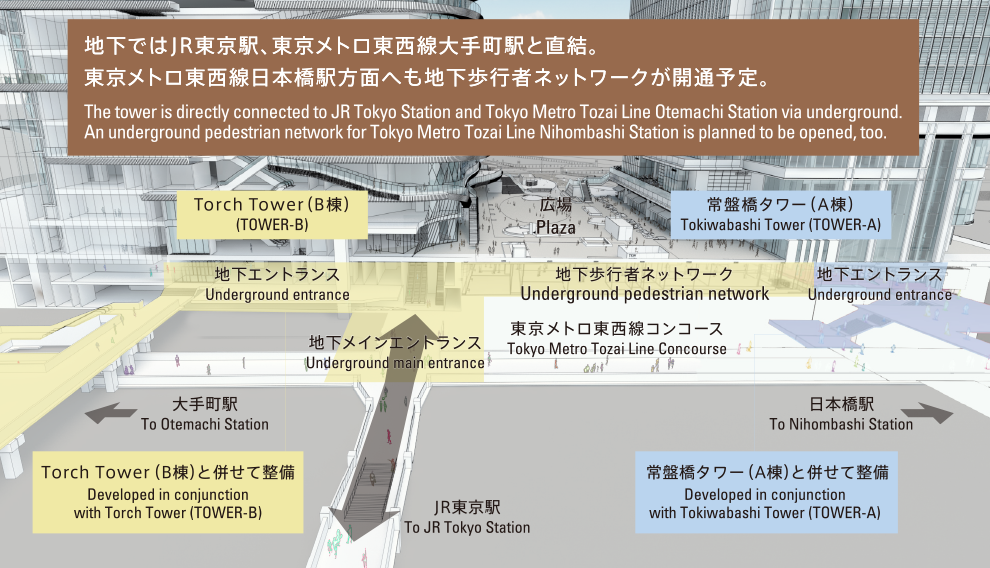 Unrivaled access to all of Tokyo.
Tokiwabashi is in one of Tokyo's most conveniently accessible locations. Not only is it adjacent to JR Tokyo Station, but it's linked to Otemachi Station where five subway lines meet and not far from Nihombashi and Mitsukoshimae stations. An underground walkway also provides direct, sheltered access to nearby Tokyo and Otemachi stations, as well as the Yaesu, Marunouchi and Hibiya areas on rainy days. An underground pedestrian network for Tokyo Metro Nihombashi Station is planned to open, too.
10YEARS PROJECT
A 10-year project to build Tokyo's new towering landmark
This large-scale redevelopment project on the largest city block (3.1 ha) facing Tokyo Station will take 10 years to complete.
Gradual redevelopment ensures uninterrupted operation of key infrastructure functions such as water sanitation on the block.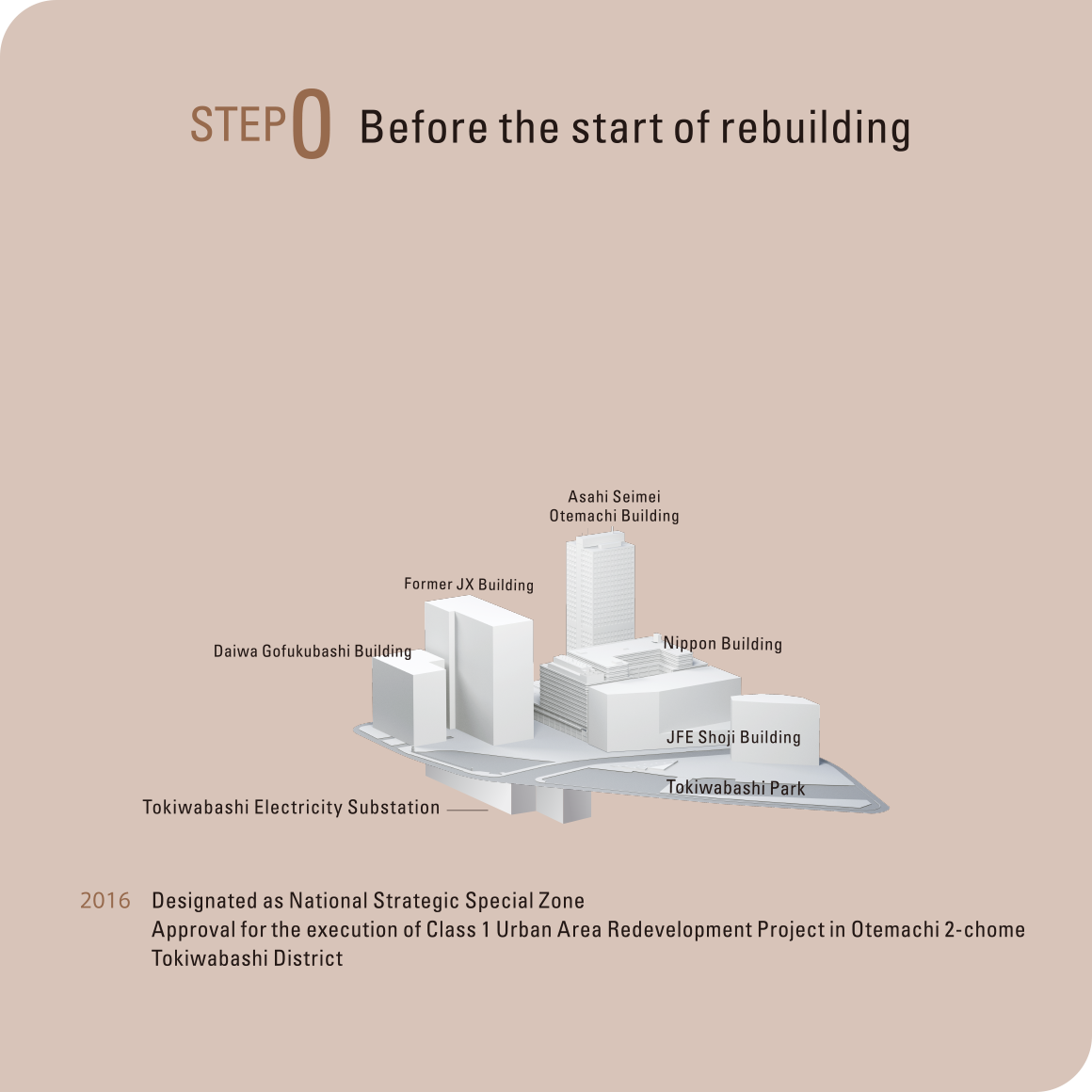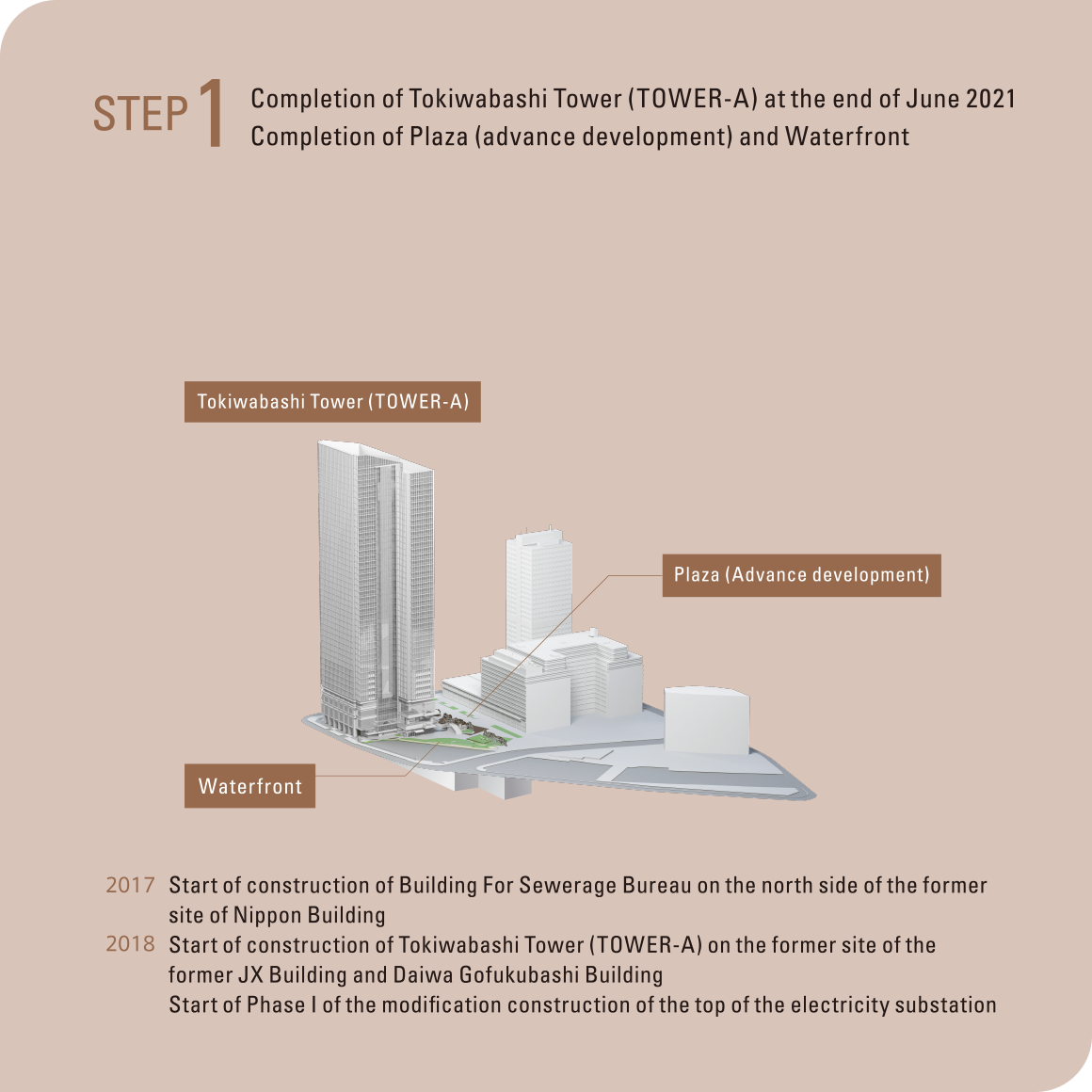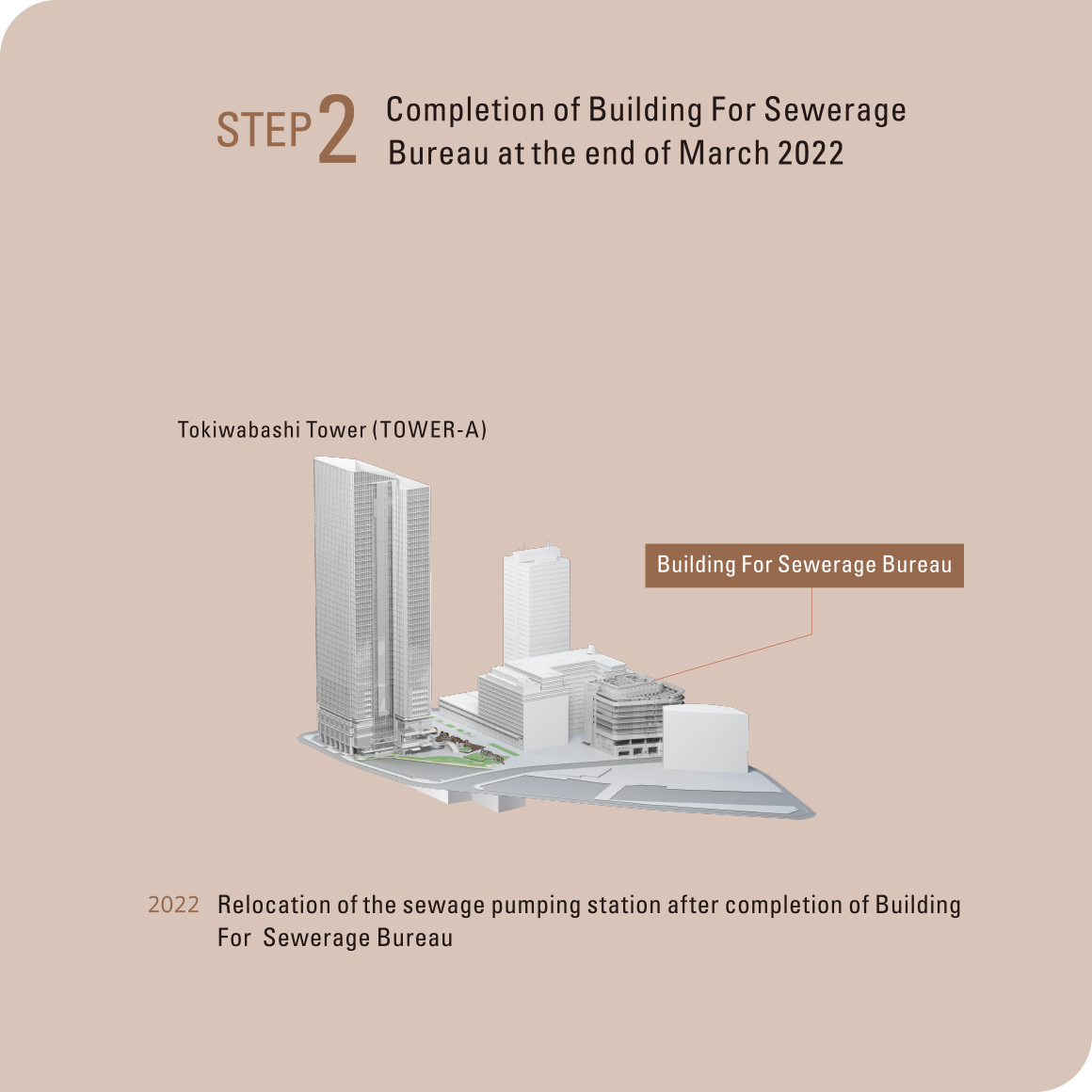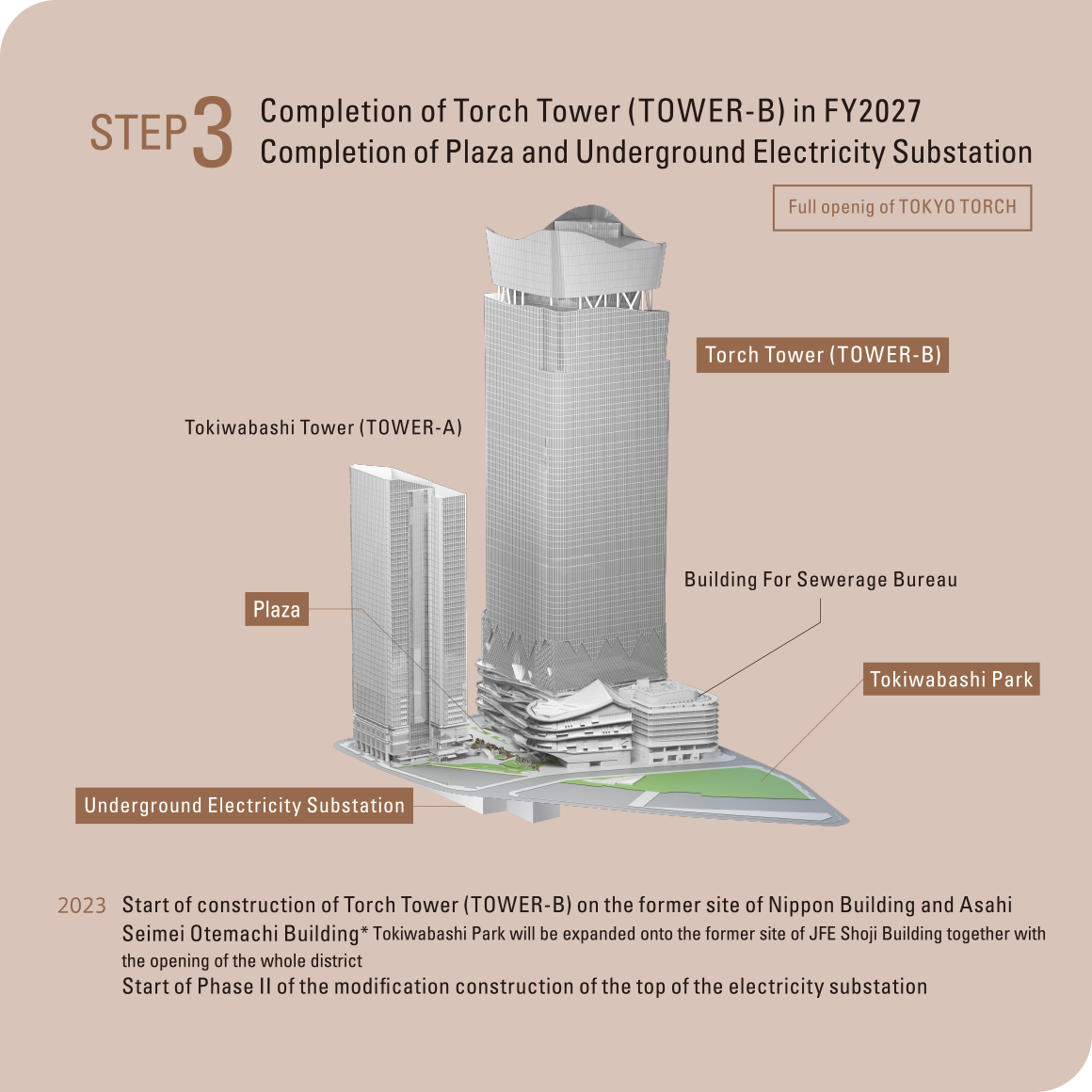 Torch TowerComing soon...
* Some of the images are for illustration purposes only.