The birth of a new landmark
in the heart of the water city of Osaka
Located at the junction of Midosuji—a symbol of Osaka—and the Dojima River—an area steeped in tradition—this new complex will enhance the activity of the water city.
One of the area's leading mixed-use buildings, boasting 32 above ground floors and a building height of 143 m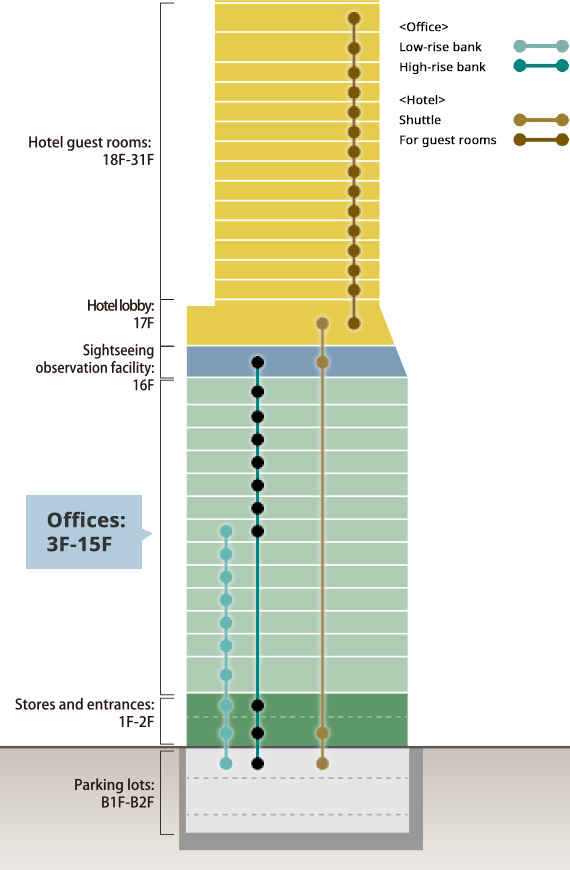 Hotel (17-31F)
The birth of a Candeo Hotels flagship hotel, complete with a sky spa on the top floor that commands a panoramic view of Osaka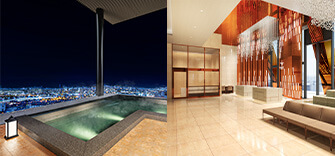 Sightseeing observation facility (16F)
This space—which is based on the theme of offering a view suitable for sightseeing—will be open to the city to afford visitors a sweeping view of Midosuji.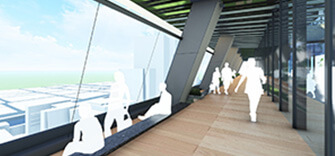 Office (3-15F)
Total rentable area of approximately 22,710 ㎡ (6,870 tsubo)
An office grade suitable for both large-scale and small-scale office use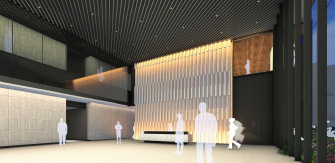 Approximately 1,752 ㎡ (530 tsubo) of column-free space on each floor
Because the versatile space includes approximately 1,752 ㎡ (530 tsubo) of leasable area and can be divided up to nine lots, it is ideal for layouts that satisfy a wide range of needs.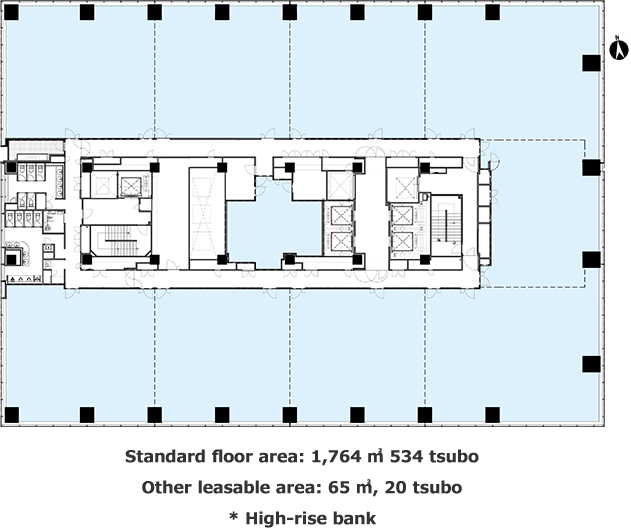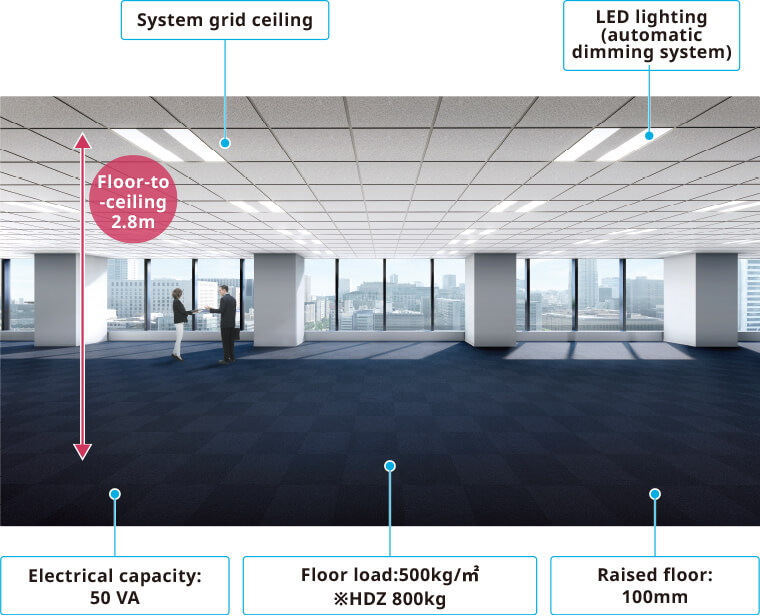 A workplace designed to promote business,
by offering solutions to the dramatic change in the way we work
The office layout will help satisfy requirements to achieve results in an age of increasingly diverse work styles, including:
(1) ABW(Activity Based Working),
(2) face-to-face communication, including in-house co-creation and relaxation, and
(3) learning via company-external co-creation.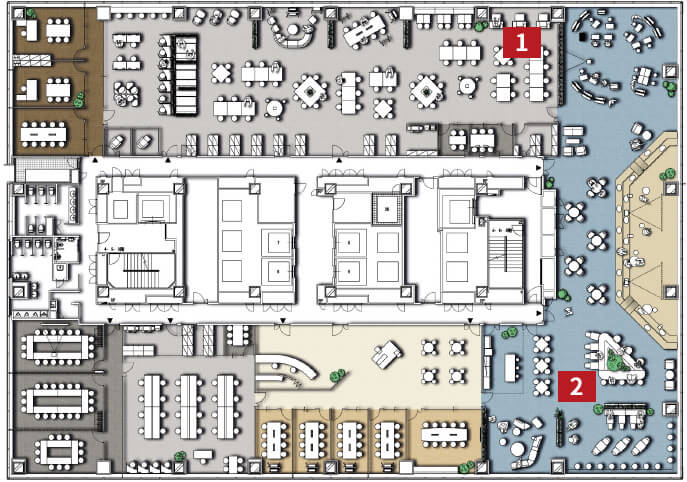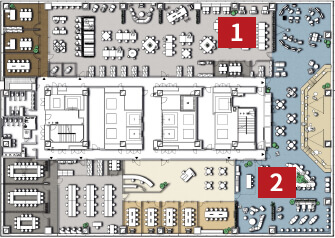 ■ Work area (WP) 192 seats
Fixed seating 30 seats
ABW, relaxation, co-creation area 162 seats
* Floor area per person 9.17 ㎡
■ Meeting rooms
Company-external meeting rooms 5 rooms
In-house meeting rooms 6 rooms
1 The plan enables flexible layout creation by moving tables.
Sofa, counter, and other seats near the windows allow each person to work based on their own style.
A solo work zone that includes concentration booths and similar facilities has also been set up.
2 Relaxation and co-creation areas are located in places with good views to help achieve laid-back spaces that facilitate open communication both in-house and with visitors from outside the company.
A number of items essential for innovation, including movable furniture and a stage, will also be available.
A workplace for professional firms and companies that demand strong security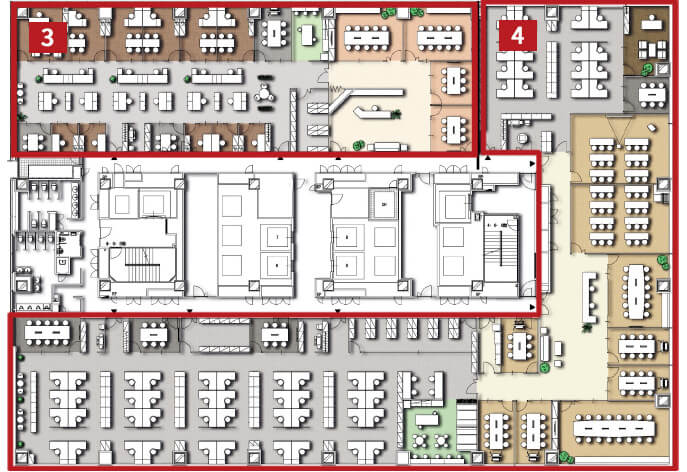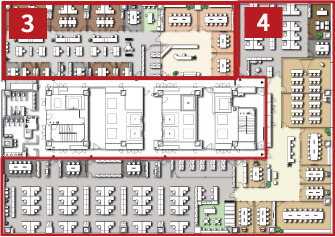 3
■ Work area (WP) of approximately 562 ㎡
(170 tsubo) 23 seats
* Floor area per person 15.3 ㎡
■ Meeting rooms
Company-external meeting rooms 4 rooms
In-house meeting rooms 3 rooms
4
■ Work area (WP) of approximately 562 ㎡
(170 tsubo) 61 seats
* Floor area per person 11.1 ㎡
■ Meeting rooms
Company-external meeting rooms 9 rooms
In-house meeting rooms 4 rooms
3 The large depth of office areas enables private rooms to be set up both along the windows and along the hallways.
There are also a lot of tenant doors, so the general and employee entrances can be freely located.
4 Because the visitor spaces are set up in areas with good views, the situation will be perfect for showing important clients hospitality. There are also plenty of windows, so daylighting can be reliably achieved for office areas even in the case of plans that call for a lot of private rooms.
A wide-open entrance to serve as the new face of Midosuji and the Dojima River
Airport shuttle buses will also regularly come and go, which helps achieve a space suitable for various people to gather.
There will be a number of cafes and other stores along Midosuji to give the area a new face.
An expansive view of dramatic scenery
The sweeping, spectacular scenery is a special perk that is truly unique to this location.
Comprehensive facilities to boost activity
Dojima Park—which is located on the south side of the planned building—will be incorporated into the project.
In addition, a wharf will be set up on the shore of the Dojima River to achieve increased activity by connecting the facilities, park, and wharf itself.
Childcare facilities Childcare facilities will be included in the building to help office workers.
Stores Roadside stores will be opened along Midosuji in particular as a new face for the area.
Redevelopment of Dojima Park Domestically produced CLT will be used to set up sightseeing restrooms. A wharf will be developed as well.
A good location within walking distance of Yodoyabashi and Umeda, the heart of Osaka's business
2-minute walk from Oebashi Station on Keihan Nakanoshima Line
4-minute walk from Yodoyabashi Station on Osaka Metro Midosuji Line & Keihan Main Line
5-minute walk from Kitashinchi Station on JR Tozai Line
❶ Courthouse of Osaka High Court, Osaka District Court, and Osaka Summary Court

❷ Osaka City Central Public Hall

❸ Bank of Japan
Outline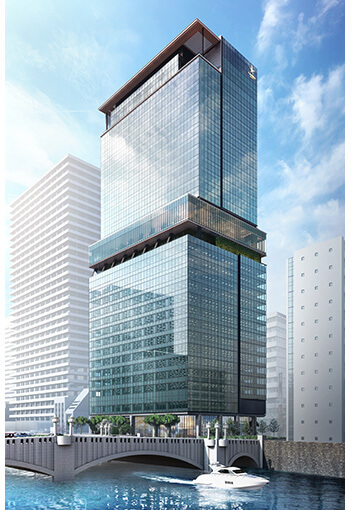 Note that the overview provided by this web page as well as the conceptual drawings of the completed project, other drawings, and related information are current as of May of 2022, and these details are subject to change.
Address

1-1-5 Dojimahama, Kita-ku, Osaka-shi
Access

2-minute walk from Oebashi Station on Keihan Nakanoshima Line
4-minute walk from Yodoyabashi Station on Osaka Metro Midosuji Line & Keihan Main Line
5-minute walk from Kitashinchi Station on JR Tozai Line

Architect

OM 4 special purpose company
Architectural Design and Supervision

Mitsubishi Jisho Design Inc. and Takenaka Corporation Architectural Design and Supervision Collective
Scheduled Completion

April 2024
Primary Use

Offices, hotels, stores, and parking lots
Floors

32 floors above ground / 2 floors below ground / 1 roof structure
Structure

Below ground: Steel reinforced concrete / Above ground: Steel frame
Building Height

143m
Site Area

Approx. 3,571.88 ㎡(approx. 1,080.49 tsubo)
Gross Floor Area

Approx. 67,000㎡(approx. 20,268 tsubo)
Net Leasable Area

Approx. 22,712㎡(approx. 6,870 tsubo)
Elevator

8 for passengers
HVAC system

9-zoned HVAC and (Water-cooled) PAC
BCP

Natural ventilation windows
Damp-proof barrier
Seismic-control structure
Emergency supply warehouse
Emergency power supply (capable of supplying power for 72 hours)
Building emergency generator (capacity: 1,250 kVA) * Common spaces
Tenant emergency generator space (capacity: equivalent to two 500 kV units)
Oil tank capacity: 45,000 L (for the building), 22,500 L (for tenants)
Parking Lots/Bicycle Parking

Parking Lots 154 spaces (144 mechanical spaces, 1 open space, 4 accessible spaces, 4 cargo vehicle spaces, and 1 taxi bay space)/ Bicycle parking 76 spaces / 16 motorcycle spaces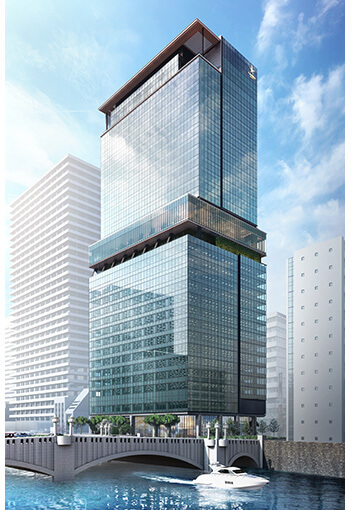 Vacancy Status
In addition to the listing in this website, we may be able to introduce you to other properties that may be ideal for your needs. Please feel free to contact us for further information or assistance
---