Mitsubishi Estate's Concept of the Office BuildingPleasurable Office Environment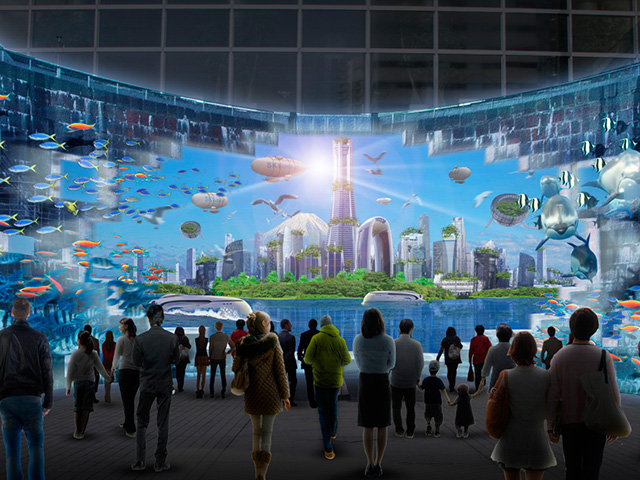 *1
Beyond providing workplace.
We believe the office is a place where people can find a fulfilling life both on and off the clock. We want to provide an environment that offers both a relaxing atmosphere and pure enjoyment of the good things in life. When Mitsubishi Estate conceives and builds office buildings, this is the inspiration for our creations.
The more, the merrier.
Our office buildings plan and host a variety of events that keep our communities vital and stimulating. We provide a place where people can truly relax and enjoy themselves, and interact with not only colleagues in their own company, but also others working in the same building.
*1: Projection mapping at Yokohama Landmark Tower.
*3. 4. 6, 7: Marunouchi Naka-dori Street, Bon Odori festival, Marunouchi Relay Race, holiday illumination and "pedestrian paradise" (closing of roads to traffic on holidays for pedestrians).
*2, 5: Grand Front Osaka – First Anniversary Event (collaboration with "Hello Kitty" character), Halloween events, Christmas events.
The city that never sleeps.
Though you may not think of Marunouchi as "the city that never sleeps", a visit to the Marunouchi House on the 7th floor of the Shin-Marunouchi Building will soon change your mind. People used to say "Marunouchi is deserted after 3:00 p.m. or on weekends," but today eating and drinking establishments crowded with customers until 4:00 in the morning are a common sight. Weekdays and holidays Marunouchi is a vibrant magnet for people seeking shopping, dining and entertainment, and the endless variety means that there is a place to suit every taste and lifestyle. This is a town of where unexpected encounters with overseas visitors or a fellow executive in a different industry at a wine bar or coffee shop open the door to exciting possibilities. The sleepless streets of Marunouchi invite you to experience a stimulating life in the heart of Tokyo after five and beyond.
Marunouchi HOUSE
Weekdays 11:00-4:00
(11:00-23:00 on Sundays, holidays and last day of extended weekend holidays)

TOKIA
Weekdays 11:00-23:00 (11:00-22:00 on Sundays and holidays)
* Some places are open until midnight.